Mount Holly, NJ, 08 September 2015 – Today twenty-three South Jersey schools opened, after RYEBREAD Architects and their consultants successfully designed, documented, bid, and administered one or more summer upgrades projects at each facility. Thanks to the diligent design teams, District staff, and contractors, the students and staff re-entered their schools to learning environments that are more safe, productive, healthy, distinctive, and efficient.
Most of these projects were paid for in part by NJ Department of Education ROD grants RYEBREAD applied for on behalf of the Districts in 2013, with the balance coming from local Referenda passed by the voters in 2014.
"After a six-year recession, the challenge was to find the labor and manufacturing capacity to put these projects into place during the available summer window of opportunity," according to RYEBREAD partner Scott Charles England. Scott was responsible for projects in Lindenwold, Ocean City, Southampton, Tabernacle, and New Hanover.
RYEBREAD partner Angelo P. Butera oversaw projects in Mount Holly, Pemberton, Pitman, Medford, and Gloucester City. "The nine-week window for school renovations is always a challenge," says Angelo, "but even more so this year. It takes intensive planning, collaboration, and oversight to make it happen."
These essential renovations included reroofing, new air conditioning, replacing lighting, fire alarms, doors, windows & greenhouses, enhanced security, emergency generators, kitchen improvements, playgrounds, asbestos removal, and stormwater drainage. The construction contracts total nearly $23M. RYEBREAD construction administrator Pete Davis came out of retirement to help give the firm "an opportunity to excel".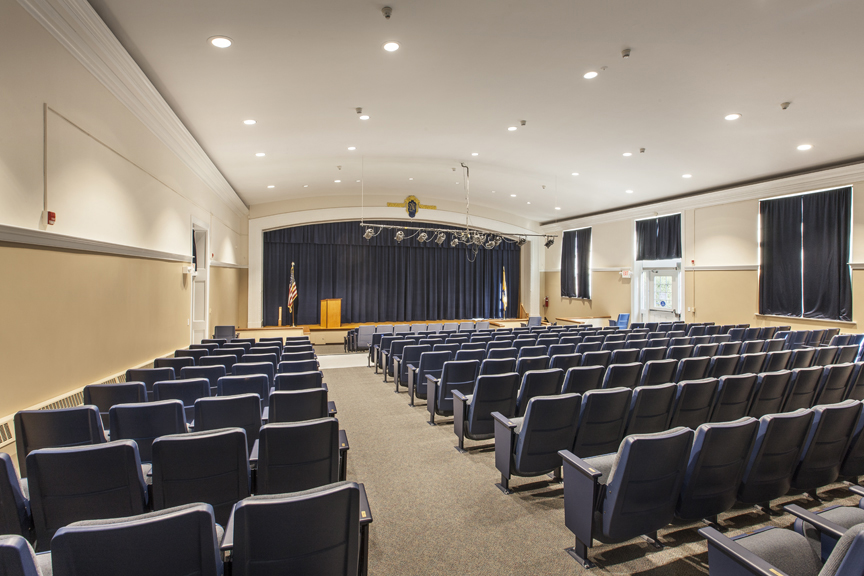 Working for NJ's Division of Building & Construction, RYEBREAD project manager Patrick Farmer also prepared the documentation for the renovation of the auditorium at the Katzenbach School for the Deaf in Ewing, NJ. (photo above)
The architecture firm and their engineering consultants are already preparing documents for upgrade projects to take place next summer in Mount Holly, Southampton, Burlington City, Salem, and Pemberton. These will go out to bid this fall. In addition, RYEBREAD project manager Roy Ruby is designing a new District Equipment Building for the Mount Holly BoE.
Regan Young England Butera: Referendums, Engineering, Architecture, Design (aka RYBREAD) serves as Architect-of-Record to fourteen outstanding South Jersey school districts, and two municipalities. As their architect, they are responsible for the programming, estimating, design, documentation, public bidding, and construction administration of their Clients' facility upgrades.
RYEBREAD's fellow design team members for these summer projects included MPE engineers Kelter & Gilligo, Schiller & Hersh, and Princeton, civil engineers Dante Guzzi and Fralinger, and construction managers New Road and Legacy. The hardworking general contractors executing these projects were Newport, Thermal Piping, Parks & Billak, 3R, Porretta, Levy, Straga Brothers, Gaudelli Brothers, Wilhelm Roofing, Neri, Thassian, CM3, Falasca, Whirl, Cramer, and William Kohl.