Mount Holly, NJ, 15 December 2015
Voters Saturday approved a $7.9M Referendum for additions and renovations to the township's Relief Firehouse at Pine and Mill Streets.
"It's good to see the firehouse is going to get the updates it needs," Township Deputy Mayor Jason Jones said. "Our township residents will now have better service because our volunteer firefighters will have a better facility."
The plan calls for Fire District No. 1 to consolidate operations into a single location at the expanded station. It includes safety and building improvements, as well as roughly tripling the size of the station, officials said. Within the expanded station, there will be equipment bays, a history museum, offices, bunkrooms and an exercise area for firefighters.
The Mount Holly Fire District No. 1 is an all-volunteer fire department that has its roots dating back to the mid eighteenth century with the formation of the Britannia Fire Company of Bridgetown. With over 250 years of committed service, the Fire District continues to proudly serve the residents of Mount Holly and its surrounding communities. As the fire service and its mission have evolved over the past decades, this Fire District and its member companies have prided themselves on its rich history, which will now be on display in Relief Firehouse
With funding for the consolidation now assured, the project will proceed into Design Development. The Project Manager for the expanded firehouse is Roy Ruby of RYEBREAD, a Mount Holly-based firm of licensed Architects, Planners, and Interior Designers. RYEBREAD is an acronym for Regan Young England Butera; Referendums, Engineering, Architecture, Design. Since "Referendums" is part of their name, it's no surprise that over the past two decades the firm has had successful renovation/expansion Referendum projects in Southampton, Tabernacle, Medford, Merchantville, Eastampton, Hainesport, Ocean City, and Mount Holly.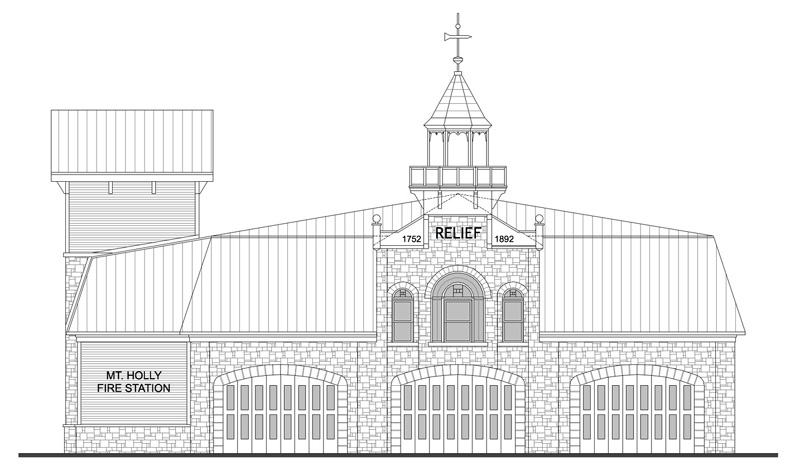 *This News Release consolidates information from a 12 December 2015 Burlington County Times article by Joe Green, as well as the Mount Holly Fire District and RYEBREAD web pages.